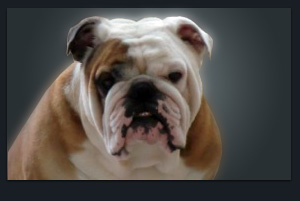 Welcome at the website "FROM BRITISH KNIGHT".
We are Aad and Johanna Kalkman and have 1 son Stefan. We live in Rotterdam in the Netherlands. Our love for this breed began about 13 years ago.
In 2003 we bought our first English Bulldog "SIMPLY RED BUSTER of DIZ CHAH" Buster was a lovely dog and really everyone's friend. A buddy for life.
He has also run various shows with nice results. Unfortunately, our buddy is no longer there but our love for this breed continued existence so we bought a new Bull pretty quickly.
We bought a male at V.'T PATDANA HOME of Diddy and Floor Iking-Huber. Not much later we bought also a bitch of them. Our love for this breed has now become that we have started our own kennel. Our dogs live in our House and are part of our family.
Occasionally we have puppies available to loving houses. Our puppies grow up with love and care.
Do you have questions about the English bulldog or planned litters please don't hesitate to contact us via the email.
Thanks for visiting our website.